Clutch recently identified 151 of the top performing creative, design, and development companies in San Francisco for 2018. This is a second year in a row that Daxima has been selected as one of the top development firms in the San Francisco area.
Companies were carefully chosen by Clutch analyst based on a comprehensive industry analysis of market presence, services offered, work quality, and verified client feedback. We are excited to announce that Daxima was recognized for having one of the top software developers in San Francisco.
About Clutch
Based in the District of Columbia (D.C.), Clutch is a B2B ratings and reviews platform that arms business buyers and sellers with the insight they need to connect and tackle challenges together and with confidence. Clutch display research using a Leader's Matrix, a 2×2 matrix where service providers are mapped based on their areas of focus and their proven ability to deliver. Daxima was also ranked as a leader in .NET development. Take a look for yourself!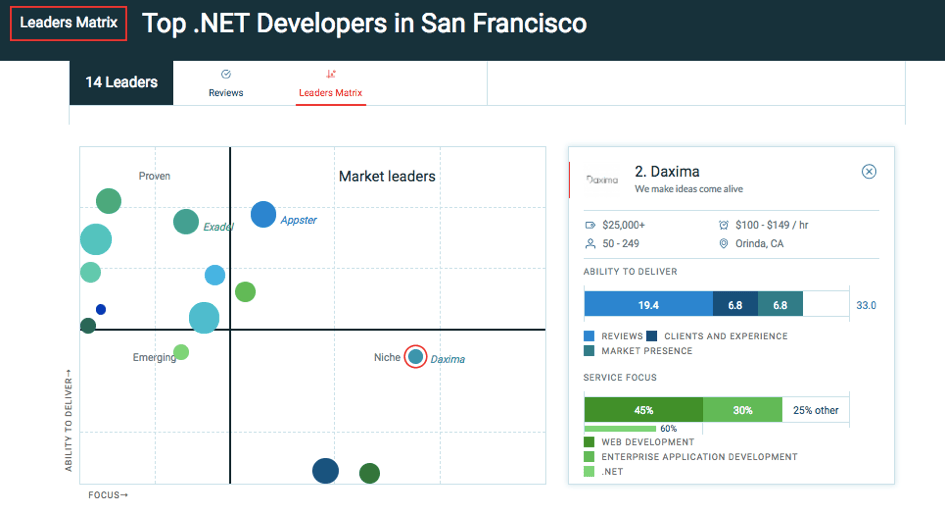 Our Clients' Feedback
Since joining Clutch last year, 7 of our clients have taken the time to review us on the ratings platform. The feedback received from the reviews has been phenomenal, with our clients highlighting our technical abilities and our great listening skills, helpful suggestions, and prompt issue resolutions. Below are some excerpts of our five-star reviews:
"The code is high-quality and very logical. Additionally, they came to meetings with considerate ideas, always balancing what the project needed with our cost restraints." – Senior Analyst, Power Production Company  
"I was happy with them, and found that their ability to talk with staff and understand them was good." – VP of Operations, Financial Counseling Company  
"It was a great opportunity to work with Daxima's team; they have really bright talent there. Everybody is cooperative and easy to work with, and they're prompt in helping you with any issues or problems that you have." – App Development Manager, Legal Firm
Thank You
We would like to give a big shoutout to our amazing clients that took the time to review us on Clutch. We strive to provide the best possible experience to each client when working on their complex technology projects and I think you'll see that dedication if you browse our reviews on Clutch.